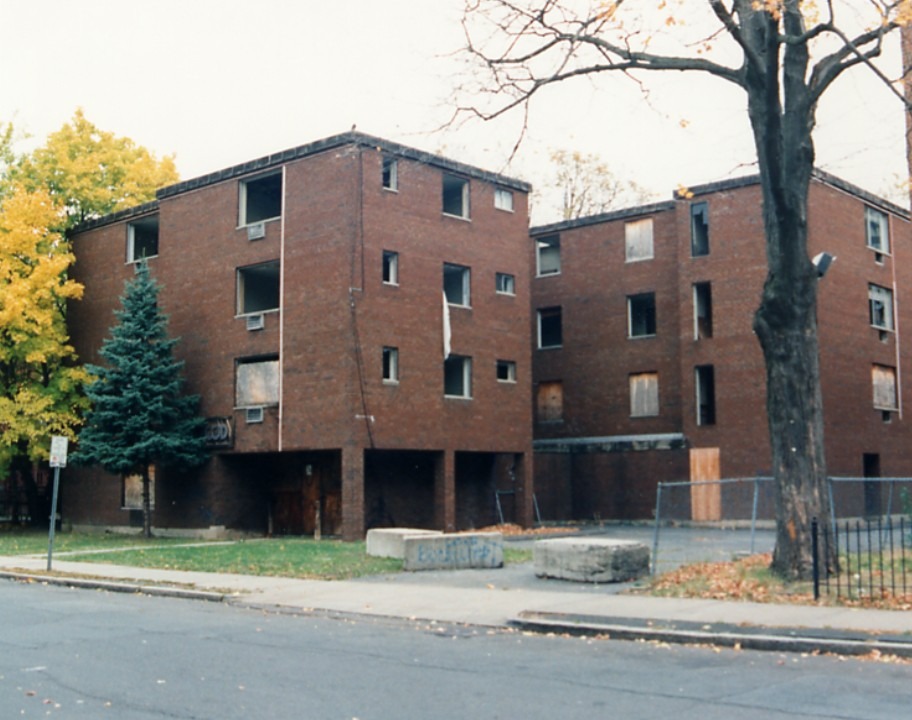 52 & 54 Huntington Street in the really before
Category: 52 Huntington Street,54 Huntington Street
As we're starting to get toward the end of the line on 52 Huntington Street, we've started preparing to enshrine 52 Huntington Street both here on our web site on its dedicated project page and also there on presentations and reports we'll make for current and future funders. This is always a fun process as we go through the photos, see how the project progressed, and assemble the best of them here and there.
Our houses on Huntington Street, however, don't really have great before shots, since "before" they were just a vacant lot. Before that, though, they were a very large building of condominiums, and what do you know, we found a picture of that! If you look closely, you can match up the driveway in this picture with the current driveway for 52 Huntington Street – that's the best landmark, because we used the existing curb cut for our driveway.
But that tree with the yellow leaves is much, much more interesting – it marks the northern boundary of what is now 54 Huntington Street, and if you go back and look at some of the photos of 54 Huntington we've put online, not only is the tree still there, but so is the right angle in the tree!
As for the condos, there was a fire, which led to the condition of the buidling seen in this photo, and then the building was demolished by the City. After that, it was bought by a local non-profit, Broad-Park Development Corporation, which planned to develop it but ultimately sold it to the Asylum Hill Congregational Church. AHCC then donated it to NINA, but we've already covered that!
Share this:
---